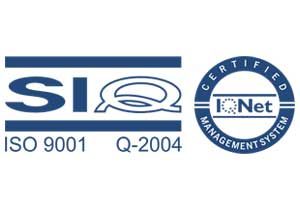 Novatronic, as the leading producer of electronic LED displays and passenger information systems in the region, is committed to continuously improve business practice through the consistent implementation of quality management systems.
We understand, fulfill and adapt to the individual needs of our clients by ensuring constant quality and safety of all our products.
Therefore, we are committed to applying the requirements of ISO 9001: 2015 as a strategic direction of our business activities.
We continually improve quality and reduce costs by increasing efficiency and effectiveness, providing survival and business development by introducing new technologies and modern equipment into our production facilities.
By adopting a specific process approach, we ensure that the idea of productivity and product quality is the common principle in Novatronic.
Recognizing the contribution of each employee, their knowledge, and experience, we encourage the creation of true and proper quality, customer satisfaction and their business goal.
On  behalf of our entire team,
Novak M. Krstić dipl. ing.
General Manager